i did something different with my hair today. makes me feel a bit older, though i like the look. i even took a series of self-portrait shots to document it. i guess older really isn't the word...maybe mature? i feel more mom-ish than normal. that sounds weird. i'm just used to dressing and looking a certain way, and except for my dreads on the weekends, i feel like i need to update the look during the week. i don't know. maybe i'm just feeling weird cause i found a half black half silver hair this morning at my temple.....not that i'm upset - on the contrary - i was excited that it was silver! maybe....it could be that i thought of a scrapbook layout when i was doing my hair....that could be it. i remember really liking the hair of the lady in the pic and wishing my hair looked that good. so -kinda the girl-next-door meets mom-next-door. anyway.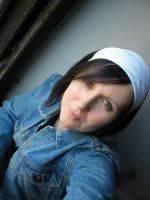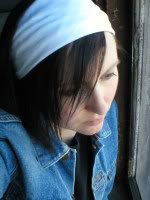 so the pix were taken in my soon-to-be exercise room. right now it's a gutted, ripped apart, cold and empty room. soon, however, it will have a squishy floor, new paint, a ceiling covered in twigs and branches, a rock garden with water, and of course a tv/vcr/dvd and all the accompanying exercise equipment! my goal for 2006 is to get healthy. i am sadly, quite obese. that's why i only take head shots! but someday....
i'm glad i had some free time this afternoon to play around and do something for me. soon, i hope to have some more free time so i can actually get some scrapping and sewing and crafting done. i'm always happiest when i'm creating.....
now it's time to get ready for church....