It's that time again. Another month has flown right on by. Here's the scoop:

1. What books/magazines did I read this month?

I read two fiction books: A Murderous Glaze and Hugh and Bess. It took quite some time to get through the first one, but I flew through the second book. Historical books are so much easier for me to enjoy! As far as non-fiction goes, I've read bits and pieces of Homesteading as well as numerous mexican cookbooks and craft/knitting books. The usual suspects when it comes to magazines, but I did get a new one this month: Creative Knitting. I don't know if I'm going to keep this one. It didn't seem to have too many projects I'd like to undertake.

2. What TV shows/movies/plays did I watch this month?
The usual, though most of my shows have ended and are only running sporadic reruns. I did get the discs from season one of Eureka. That was funny and I plan on watching the rest of the seasons. Movies: Independence Day, Julie and Julia, The Sum of All Fears, Avatar, Blindside, Karate Kid 2, Honey I Blew up the Kid, Sweet Home Alabama, Daybreakers, Sherlock Holmes, Up, Star Trek; the Voyage Home, A League of their Own. I guess we've watched a lot of movies lately since our TV shows are finished.

3. What fun things did I do with my family/friends this month?
Our friends from Texas came to visit for a week and we stayed in the condo with them for a few days. We had fun walking around Downtown Disney and spent lots of time together at the pool! Chad and I have gone on a date almost every Friday morning this month. During vacation week we actually got to play a round of disc golf. J went with us because it had been such a long time since we'd played.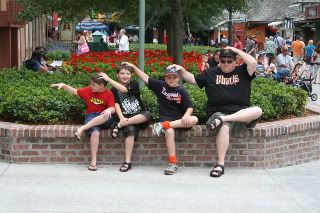 "Monkey see, Monkey do"

4. What gifts did I give/receive this month?
J went to a birthday party this month and he gave his friend (what else?) a baseball bat/ball set... made by Nerf! The ball has this patch on it that helps you make it curve. They had so much fun. And now J wants one for himself :) J and I both received a certificate from J's baseball coach at the end of the season. J for completing his first year in Majors and me for being the scorebook keeper.

5. What special or unusual purchases did I make this month?
I bought myself a cheap pair of tennis shoes. And K immediately tried to steal them...again. She won't give back my purple shoes, so I'm guarding these new ones very carefully!

6. What illnesses/health concerns did I have this month?
None, really. I'm a little concerned with J's diet lately. He seems to be putting on some weight despite being very active. I hope that means a growth spurt is on the way.

7. What were my accomplishments this month?
I finally got the artwork for my online craft store finished. I signed up for a store on shophandmade.org and I made three sets of napkin rings. I have a few more items to finish before I'll post anything though. I want to have a few more options for potential customers to look through.



8. What were my disappointments this month?
I didn't walk much this month and I can feel the difference. I am determined to knuckle down and get back on it though. The offical training schedule starts in a couple weeks! eek!

9. How did I do on my goals this month?
It's 50/50. I didn't walk much, but I got a lot done on the crafting front. I didn't take any photo challenges, but I've been close to getting my pictures every day. I didn't blog every single day, but I did blog most days.

10. Anything else noteworthy for the month?
Chad's work has been on again off again. We're still trying to make plans to move back up north soon. The kids have made a lot of friends this last year (we have too) and that is making things difficult.