It has been far too long since I've enjoyed a trip to the thrift shops. I only hit one this time around, mostly because I'd spent my budget! Too many great deals :) I went with the intention of finding some skirts and dresses and hopefully some workout shorts/gear. And after trying on at least 20lbs of possibilities, I walked away with one dress.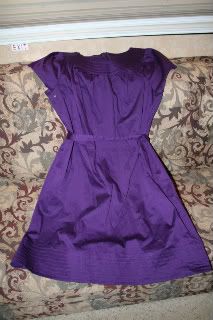 This purple dress! I can't wait to get it washed and start wearing it! Best part - it was brand new. What a deal. On my way to checkout I remembered that I wanted to look for a bag to convert to a camera bag. And wouldn't you just know it; I totally lucked out!


When I spotted this bag I actually squealed a little and started hopping up and down in pure joy! Not only is it the perfect shape and depth, it's the most beautiful color. I love it! And then I just happened to spot another sweet bag, one that I've been craving for some time now...


The perfect straw bag! The lining is in desperate need of replacement, but that's okay because I got this bag for a song! At this point I decided to get in line, but then I happened to glance over at the "new" stuff shelves and I couldn't believe my eyes! A brand new pair of galoshes!


I saw all the pretty galoshes on the Target website and instantly fell in love. I never did get to order a pair. This colorway wouldn't have been what I ordered, but it was on my top 5. And while I was still glowing with happiness over the boots, I glanced up and saw these


beautiful ribbony things! The birthday ribbons will go right into my scrapbooking box. The green plastic wire is very interesting. It's a foam/plastic wrapped wire made for use in the garden. I can't wait to play with it. And I'm wondering if I'll be able to find any more of that stuff.

It was a pretty good thrift day, even if I didn't find skirts. Maybe next time!